Find here every day a summary of the best recently free iPhone apps hand-picked for you by AppiDay.com staff. And when we find some good deals, we also mention top apps currently on sale. You can follow us on twitter or Facebook and by mail :
Best iPhone deals
Crow : 2.99 -> $.99 for iPhone and iPad
Recently free iPhone and iPod Touch apps :
Important note : please, be carefull, all the apps mentionned below were free when we wrote this post, their price may have changed depending when you read this so always check the price before downloading from the App Store ! We won't be held responsible for any mistake since … You are the one hitting the button 😉
iCanShop  : a smart and evolutive shopping list with great UI and lots of icons, a must have – Free today with AppiDay.com !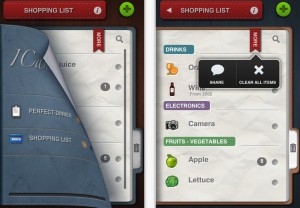 Slow Shutther Cam : Slow Shutter Cam brings new life into your device's photo toolbox by letting you capture a variety of amazing slow shutter speed effects that you only thought you could get with a DSLR.
aDrive Video : aDrive Video is easy to use application, combining functionality of specialized video recorder and car digital dashboard.
iColorMeter : Do not know what color it is ? Let's use iColorMeter !, for iPhone and iPad
eDrops Classic : Use gravity to compose awesome orchestral compositions., for iPhone and iPad
The QRCode Machine : With THE QRCODE MACHINE you can ENCODE and DECODE any QRCode., for iPhone and iPad
iBLACKB0ARD : With this application you can draw your diagrams quickly and easily. This apps is ready to use in class, in college or when you want to explain something to someone, for iPhone and iPad
Recently free iPhone and iPod touch games :
Escape The Ape : Now, enter the jungle and escape your ape before it is too late , ranked 4,5 stars on the US App Store, for iPhone and iPad
Meow Maze Zombie Cats Game : All of the zombie kittens are lost in the maze! Help them back to their zombie momma at the end as quick as you can. , ranked 5 stars on the US App Store, for iPhone and iPad
Sough Ninja : This game is to save hostage!Yet we find that our Ninjas killing more than saving , ranked 4,5 stars on the US App Store, for iPhone and iPad
Toca Doctor : Let your kids be a doctor for a day! Examine a patient and solve fun puzzles and mini-games that take place in the human body. Beautiful artwork and fun sounds guides your kids through 21 different puzzles!  , ranked 4 stars on the US App Store
Supersonic HD : Supersonic HD is an adrenaline-charged, music-driven 3D ride game. Blaze through radiant neon racing circuits at ever faster speeds, accompanied by electronic beats from Finnish artist collective Kitkaliitto. , ranked 4,5 stars on the US App Store, for iPhone and iPad
and a few other games :