Save money every day ! Our iPhone app and iPad app with push notification are available on the App Store
Find here every day a summary of the best recently free iPhone apps hand-picked for you by AppiDay.com staff. And when we find some good deals, we also mention top apps currently on sale. You can also follow us on twitter or Facebook and by mail :
Best iPhone apps deals
Recently free iPhone and iPod Touch apps :
Important note : please, be carefull, all the apps mentionned below were free when we wrote this post, their price may have changed depending when you read this so always check the price before downloading from the App Store ! We won't be held responsible for any mistake since … You are the one hitting the button 😉
Game Your Video : FREE today with AppiDay – Creating great videos has never been easier. Game Your Video brings you live motion effects, fun audio transformations and gorgeous video filters to make stunning videos a child's play. Beatifull, efficient, we just love it  !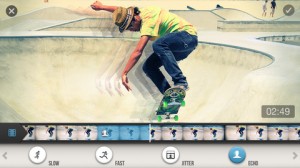 Star Map 3D : Use your iPhone's compass and gyroscope to find planets, constellations, and more with crisp, colorful, high-definition Retina graphics that use every pixel of your iPhone! Hold the universe in your pocket!
Parker Planner : Calendar with super fast two-tap entry. Quick and easy to-do list. Notes that pin on the day you make them. It's the only calendar that has all three on one screen!
Recently free iPhone and iPod touch games :
Sky Hero : Leap valiantly from the top of your fortress and guide courageous soldier John to safety in this endless faller., for iPhone and iPad
Walking Dead: The Game : The Walking Dead is a five-part episodic game series set in the same universe as Robert Kirkman's award-winning comic books featuring Deputy Sheriff Rick Grimes. , for iPhone and iPad
HEIST: The Score : Heist tells the thrilling story of a daring bank robbery set in the prohibition era of 1920's America., for iPhone and iPad
OLO : OLO is an addictive game of skill and strategy, a new generation social board game for all ages. Play with up to three friends or play online against anyone, anywhere. , for iPhone and iPad
Madcoaster : Get ready for the roller coaster ride of your life with MadCoaster. Speed through various environments, collecting coins along the way as you try to beat your latest high score! , for iPhone and iPad
Prince of Persia® Retro : For the first time on iPhone, relive the classic adventure that started it all!, for iPhone and iPad
Airspin : Welcome to Airspin, a flight tourism destination on the island of Maka! Now that you've arrived it's your turn to take control of the most maneuverable light plane on the island., for iPhone and iPad
and a few other games :