Save money every day ! Our iPhone app and iPad app with push notification are available on the App Store
Find here every day a summary of the best recently free iPhone apps hand-picked for you by AppiDay.com staff. And when we find some good deals, we also mention top apps currently on sale. You can also follow us on twitter or Facebook
Best iPhone apps deals
Recently free iPhone apps :
Important note : please, be carefull, all the apps mentionned below were free when we wrote this post, their price may have changed depending when you read this so always check the price before downloading from the App Store ! We won't be held responsible for any mistake since … You are the one hitting the button 😉
iPlaniShare : Easy To Navigate Everyday Digital Planner with included Sharing, for iPhone and iPad
Track Kit Pro : GPS Tracker with offline maps, Compass, Speedometer, Rangefinder and Theodolite, for iPhone and iPad
File Manager App : ultimate app to download, organize and view all your files on your iPhone or iPad., for iPhone and iPad
Baroque HD : 1149 paintings of more than 100 famous Baroque masters, for iPhone and iPad
TypoPic : Text 3D Rotation , ranked 4,5 stars on the US App Store
Classic Keyboard : Are you sick and tired to switch a keyboard between letters and digits? Are you bored with toneless gray keyboard? Express yourself and improve your productivity with the Classic Keyboard!, for iPhone and iPad
PicSpin360 : Plane picture can be changed to 3D picture with this app. Try put your picture in 3D space: billboard, wall, window and anywhere… , ranked 4,5 stars on the US App Store
Lens+ : Switch the lens to an analog lens with one touch slide
Background Eraser Pro : SuperImpose Photo Editor & Cut Out Image Outline , ranked 4 stars on the US App Store
Discover it !
DomiNations : epic combat strategy game of advancement, exploration, and conquest from legendary game designer Brian Reynolds (Civilization II, Rise of Nations). From the Stone Age to the Space Age!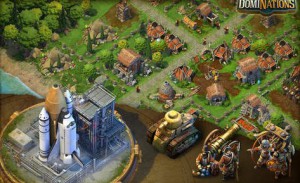 Recently free iPhone and iPod touch games :
iSays : Simon Says Classic Memory Game, for iPhone and iPad
Warm Gun CoB : like Borderlands and Team Fortress had a baby, for iPhone and iPad
Warm Gun : fight in a Unity 3D world, for iPhone and iPad
Quetzalcoatl : Be prepared to push the limits of your brain with its 180 carefully designed snaky puzzles! Dozens of hours of gameplay are awaiting you!, for iPhone and iPad
Fresh Reversi : Othello Like Strategy and Logic Board Game, for iPhone and iPad
and a few other games :