Save money every day ! Our iPhone app and iPad app with push notification are available on the App Store
Find here every day a summary of the best recently free iPhone apps hand-picked for you by AppiDay.com staff. And when we find some good deals, we also mention top apps currently on sale. You can also follow us on twitter or Facebook and by mail :
Best iPhone apps deals
Recently free iPhone and iPod Touch apps :
Important note : please, be carefull, all the apps mentionned below were free when we wrote this post, their price may have changed depending when you read this so always check the price before downloading from the App Store ! We won't be held responsible for any mistake since … You are the one hitting the button 😉
Cloud Wifi : FREE today with AppiDay – Cloud Wifi allows you to save, sync and share your Wi-Fi keys between your Apple devices, for iPhone and iPad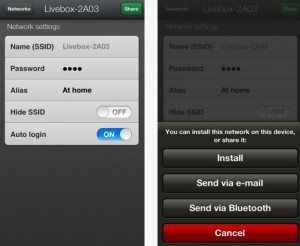 Soaring : Soaring is a virtual sky, using GPS location and current time to determine the location of the sun and the moon in the virtual sky. Displays time and weather of current location.
CarTunes Music Player : CarTunes is the freshest iOS music player, designed entirely for touch. , for iPhone and iPad
Translate Voice : Can you imagine talking into your phone in one language and immediately hearing yourself in another language? That's exactly what Translate Voice™ does, for iPhone and iPad
UtilityPRO : utility survival app that displays your battery life directly on the app!
watchlater : Download, find and watch videos from YouTube, Vimeo, and 30 other media platforms. Create playlists and share them with your friends!, for iPhone and iPad
Play alongside Stella and Sam : Play alongside Stella and Sam and their dog Fred as they turn to the Go-There-Square to find a magical place. Pop musical bubbles, collect dandelions and build a bridge out of flowers, for iPhone and iPad
Recently free iPhone and iPod touch games :
Galaxy on Fire 2™ HD : Galaxy on Fire 2™ HD is a premium-quality 3D space combat and trading simulation with adventure and RPG elements. , for iPhone and iPad
Great Big War Game : Taking military "advice" from the ridiculous generalissimo, can you battle your way through this truly massive, content-packed military campaign? Plan your missions, deploy your "forces", try not to fall off the sofa laughing! , ranked 4,5 stars on the US App Store, for iPhone and iPad
Dead Rage: Revenge Soul HD : Sean served in a special military , and do not want to be the killing machine. One day a sudden outbreak of the virus crisis enveloped his home city., for iPhone and iPad
Line Runner 2 : Line Runner 2, the long awaited sequel to the smash hit with more than 25 million players is now available, packed with amazing new boost items, spectacular crashes, beautiful themes, cool characters and new tricky obstacles., for iPhone and iPad
King of Opera : King of Opera is a fight for fame at the opera for 1-4 players. , for iPhone and iPad
and a few other games :