Find here every day a summary of the best recently free iPhone apps hand-picked for you by AppiDay.com staff. And when we find some good deals, we also mention top apps currently on sale. You can also follow us on twitter or Facebook and by mail :
Best iPhone apps deals
Recently free iPhone and iPod Touch apps :
Important note : please, be carefull, all the apps mentionned below were free when we wrote this post, their price may have changed depending when you read this so always check the price before downloading from the App Store ! We won't be held responsible for any mistake since … You are the one hitting the button 😉
GroupShot : GroupShot solves a common problem found in group photos, namely one person who isn't facing the camera or whose expression doesn't fit the rest of the group., for iPhone and iPad
Dots (Pixel Art) : Draw pixel art with Dots. If you are a pixel art lover, you shouldn't miss Dots!
InstaWeb : Browse your favorite web site and create beautiful PDFs for offline reading, Dropbox sharing, email or printing. Preview and read your document with the in-app PDF Viewer. , for iPhone and iPad
Analytiks – Google Analytics app : Analytiks is the most beautiful Google Analytics iPhone app. Fast and smart like you. Analytiks turns Google Analytics stas into a beautiful, easy to understand infographic. Follow traffic from Facebook, Twitter and search engines. Track multiple sites.
Featured Free
Candy Crush Saga : Switch and match your way through more than 100 levels in this delicious and addictive puzzle adventure. , ranked 4 stars on the US App Store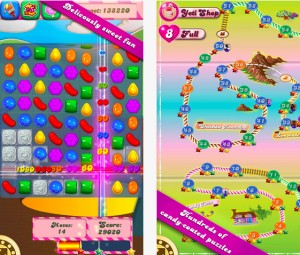 Recently free iPhone and iPod touch games :
Fractal Combat : Fast-paced futuristic arcade flight combat. , ranked 4,5 stars on the US App Store, for iPhone and iPad
Polyroll : As the last remaining Polyroll, you must run, jump, roll, float, and bomb your way through a variety of bizarre environments to save them and defeat Kaiser Kiwi. , ranked 4,5 stars on the US App Store, for iPhone and iPad
Bad Habit: Rehab : Bad habit is a short and easy way to have fun, but in return it always takes something from you. Help our braves to get rid of this pathological addiction. Teach them properly! Make this addiction go away.
Fly and Cheese : The game is about a fly that is disabled in wings but firm in spirit trying to get his lost cheese back.
Blip : Tumble, bounce and slide BLiP through an atmospheric world filled with deadly spikes and precarious platforms. Collect stars to unlock over 60 levels of challenging and addictive fun. , ranked 4 stars on the US App Store, for iPhone and iPad
and a few other games :