Save money every day ! Our iPhone app and iPad app with push notification are available on the App Store
Find here every day a summary of the best recently free iPhone apps hand-picked for you by AppiDay.com staff. And when we find some good deals, we also mention top apps currently on sale. You can also follow us on twitter or Facebook and by mail :
Best iPhone apps deals
Recently free iPhone and iPod Touch apps :
Important note : please, be carefull, all the apps mentionned below were free when we wrote this post, their price may have changed depending when you read this so always check the price before downloading from the App Store ! We won't be held responsible for any mistake since … You are the one hitting the button 😉
Locker Pro : Includes Wi-Fi/USB and other modes of file transfer. Also the most admired File Management features of Evereader lets you copy, move, remove, rename, email, zip, upload, download and sorting of files., for iPhone and iPad
Instalyrics : Instalyrics quickly and easily brings you lyrics for any of the songs on your iDevice. Using id3 tags to search thousands of lyrics websites, Instalyrics works for any tune in any language, at any time. This is the most complete song lyric resource in the App Store and now works together with your Mac., for iPhone and iPad
Photonia : Your pictures can be just as cool and just as unique. Photonia will allow you to give it that little extra oomph to make it a much cooler picture.
TrueMetronome : TrueMetronome is the only app worthy of being called a metronome. Almost all metronome apps boast about their accuracy, but users with sensitive hearing notice inaccurate beats all the time. It used to be impossible to create a perfectly accurate metronome on a mobile device., for iPhone and iPad
TinyList : TinyList is a minimalistic app for creating simple check lists., for iPhone and iPad
Featured Free
Candy Crush Saga : Switch and match your way through more than 100 levels in this delicious and addictive puzzle adventure. , ranked 4 stars on the US App Store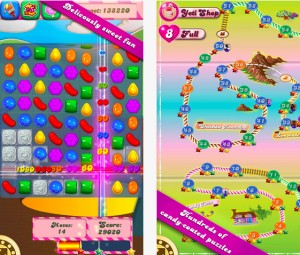 Recently free iPhone and iPod touch games :
iSniper 3D Arctic Warfare : You are Glous Miller, the legendary super-sniper. Are you going to rot in prison for being too good at your job, or are you going to team up with a hot babe and save the world? A man of your skills is too valuable to make license plates, so buckle up because this is going to be one wild ride! , ranked 4 stars on the US App Store, for iPhone and iPad
DreamWorks Dash n Drop : There's trouble at the North Pole and the presents have been scattered everywhere! Collect and deliver presents to children around the world as you dash through the evening sky in the Guardians' magical sleigh. Be sure to grab some elves and coins along the way, but watch out for evil Nightmare creatures who will try to stop you!, for iPhone and iPad
Ace Rider : Take control of the AWESOMEST stuntman ever in this exciting 2D motorbike racing game. Blast over challenging tracks, do crazy stunts & win massive points. Start your engines! , ranked 4,5 stars on the US App Store, for iPhone and iPad
Fish Heroes : Meet Mr. Puffer, Mr. Whale, the quirky Octopus and other Fish Heroes who have set sail to save the smaller fish from being canned by the Shark Mafia! This 3D physics action-puzzler will test your skills, aim and logic in a mesmerizing ocean environment., for iPhone and iPad
AREL WARS 2 : Join the legions as they battle for the safety and security of their kingdoms in this non-stop defense game. Full of in-depth skill building and customization as well as deeply rewarding challenges, AREL WARS is back and better than ever. , ranked 5 stars on the US App Store, for iPhone and iPad
and a few other games :