Save money every day ! Our iPhone app and iPad app with push notification are available on the App Store
Find here every day a summary of the best recently free iPhone apps hand-picked for you by AppiDay.com staff. And when we find some good deals, we also mention top apps currently on sale. You can also follow us on twitter or Facebook and by mail :
Best iPhone apps deals
9mm : 6.99 -> $.99 for iPhone and iPad
Recently free iPhone and iPod Touch apps :
Important note : please, be carefull, all the apps mentionned below were free when we wrote this post, their price may have changed depending when you read this so always check the price before downloading from the App Store ! We won't be held responsible for any mistake since … You are the one hitting the button 😉
iCanShop : FREE today with AppiDay – a great, smart and evolutive shopping list featuring hundreds of icons and several themes to personalize your lists and your items. 4.5 stars on the App Store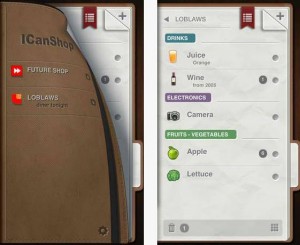 CookingConv : This special unit converter for cooking a,d recipes converts most useful values in the kitchen
Polamatic : brings back the instant nostalgia of Polaroid pictures. Capture or import a photo then select from 12 Polaroid frames, 12 photo filters, light leaks, add text, and finally share your Polaroid!
My Dashboard : access to all of their SOCIAL NETWORKS, NEWS feeds and device content on a multiscreen "Dashboard" app. , for iPhone and iPad
Recently free iPhone and iPod touch games :
Fairy Tails : Ever seen a Boxing Kangaroo or Dancing Monkey? Breed and find dozens of such Fun/Exotic animals, and create the most beautiful forest – Collect Dozens of different animals, Grow the animals and watch them do fun tricks , ranked 4,5 stars on the US App Store, for iPhone and iPad
Pandoodle (Full) : in this relaxing game, you have to paint every spot with its right color. Spend less ink to get more stars and unlock new books with new features., for iPhone and iPad
The Police Story : accelerate, slow down, jump and live an exciting adventure with plenty of worlds and different levels.
iBlast Moki 2 HD : Explore 90 levels across 6 colorful worlds in this physic puzzle game, for iPhone and iPad
Granny Smith : Granny Smith loves her apples, but a bewheeled thief is stealing from her precious garden! Help Mrs. Smith as she swiftly skates through farmland and cityscapes, crashing through everything from barns to offices in the pursuit of fruit., for iPhone and iPad
Angry Birds : Use the unique powers of the Angry Birds to destroy the greedy pigs' defenses!
and a few other games :