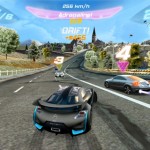 A special note for a very special and great deal today. Gameloft is indeed offering a game for free.
This is a Asphalt 6 Adrenaline , a very good game available for both iPhone and iPad since christmas 2010.
This adrenaline-pumping edition of the Asphalt series is ranked 5 stars on the App Store and is … Temporarily free so don't wait, don't hesitate, give it a try, it's really worth it with 42 cars and bikes from Ferrari, Lamborghini, Aston Martin, Ducati , online and local Multiplayer mode for up to 6 racers, street races in city streets like L.A., Tokyo, the Bahamas and more…
Just hit the links below (and check the price before buying since it may come back to paying depending on WHEN you read this post)
This is definitevily a top free game so don' miss it 😉
And see you later for our recently free apps daily digest !