Find here every day a summary of the best recently free iPhone apps hand-picked for you by AppiDay.com staff. And when we find some good deals, we also mention top apps currently on sale. You can follow us on twitter or Facebook and by mail :

Best deals on iPad apps
Recently free iPad apps :
Important note : please, be carefull, all the apps mentionned below were free when we wrote this post, their price may have changed depending when you read this so always check the price before downloading from the App Store ! We won't be held responsible for any mistake since … You are the one hitting the button 😉
My Brush for iPad : MyBrushes is a unique painting application designed to create images and playback the whole painting process. It has 100 kinds of realistic brush styles to simulate the effect of Brush painting, Watercolor painting, Oil painting, Chinese painting, Drawing, Chinese Calligraphy etc
Chronograph : Chronograph features stopwatch functionality with both digital and analog display. Time can be recorded to one hundredth of a second accuracy using the simple and responsive controls. Chronograph comes with two stylish watches which can be changed with ease via the settings screen. You can expand your watch collection from within the app settings screen.
PushInk : PushInk is the fastest and easiest pc-to-phone link and note sender., for iPhone and iPad
HOPE Poster Photo Filter : HOPE Poster makes it easier than ever to turn your own photos into iconic posters featuring your own messages!, for iPhone and iPad
VideoGrade : VideoGrade is the color grading editor that you need to make your videos look incredible!, for iPhone and iPad
Recently free iPad games :
Jump & Splash : Swim, jump and fly for your life before it's too late, for iPhone and iPad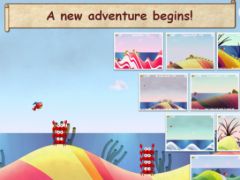 Super KO Boxing 2 for iPad : The most outrageous arcade-style boxing game for the iPhone and iPod touch is now available for your iPad!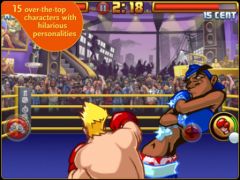 and a few other games :