Find here every day a summary of the best recently free iPad apps hand-picked for you by AppiDay.com staff. And when we find some good deals, we also mention top apps currently on sale. You can follow us on twitter or Facebook
Best deals on iPad apps
Recently free iPad apps :
Important note : please, be carefull, all the apps mentionned below were free when we wrote this post, their price may have changed depending when you read this so always check the price before downloading from the App Store ! We won't be held responsible for any mistake since … You are the one hitting the button 😉
SynthStation : Transform your iPhone into a music production studio. SynthStation transforms your iPhone, iPod touch or iPad into a portable music production studio for mobile music creation, for iPhone and iPad
TweetyPop – Twitter, Reimagined : fun and intuitive way to experience Twitter. TweetyPop offers a visually stunning way to stay up-to-date with your Twitter accounts with our one-of-a-kind 3 dimensional Twitter space. As tweets appear, they sort in the chronological space-time-Twitter continuum. As you read each tweet, grab it with your finger and fling it off screen. This revolutionary tactile user experience is sure to leave you wishing all iPad apps were this much fun.
Fanfan l'éléphant : This little girl is bored with her piano. She's bored because the music of her piano doesn't make her dream anymre. Knock knock knock! There is a sound coming from the piano. "Is anybody there?" She bends over to see who is calling her.
Alchemist Rose : Beautiful, Magical, Colorful, Delightful… • • • …put on some Music …pick up your iPad… and DANCE ! Alchemist Rose creates animated Interactive colorful Mandalas that groove and pulsate to your every move. Video-Out supported.
Video Star : Record an awesome music video, anytime, anywhere. Lip sync … dance cover … capture your friends in action. ✨YOU✨ are the Video Star!, for iPhone and iPad
VoiceJam : create an entire song with your voice, simulating bass lines, melodies, rhythms and sound effects, all in one pass. At the heart of VoiceJam is a powerful audio looper. An audio looper works by recording sounds you make while playing them back in a repeating loop. The cool thing is that as the loop repeats, you can keep layering new sound on top of it, for iPhone and iPad
Recently free iPad games :
B.A.N.G. Invasion : Smash the bad guys and get tons of EXPLOSIVE fun!, Angry Birds in 3D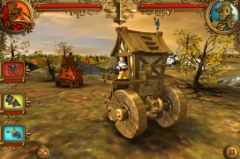 Siege Hero HD : Tear down the 150 HD castles across two Ages. If you're good enough to earn Gold on each castle you'll unlock the extra looting levels in the Treasure Map. Over 5-hours of gameplay with much more to come.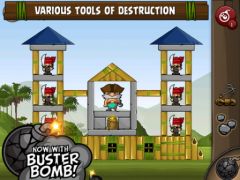 Chicks and Turtles : game set between beaches and crystal clear seas, where nuclear bombs, potions, treasure and rockets will take you on a fantastic adventure against time! , ranked 5 stars on the US App Store, for iPhone and iPad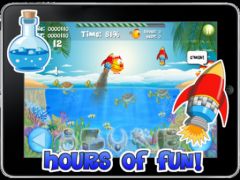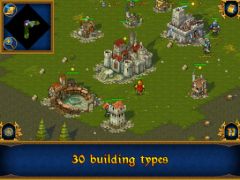 Monster Trouble HD : Enter into a fantastic 3D world populated by Monsters, Goblins and Ogres, where the country dwellers gather to defend their houses from a horde of monsters that, wave after wave, filter out of various caves. You must help the country dwellers to survive the onslaught so you can get a chance and move on to the next level., for iPhone and iPad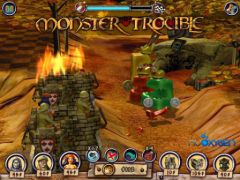 and a few other games :