Find here every day a summary of the best recently free iPad apps hand-picked for you by AppiDay.com staff. And when we find some good deals, we also mention top apps currently on sale. You can follow us on twitter or Facebook
Best deals on iPad apps
SHADOWGUN : 4.99 -> $.99 , for iPhone and iPad
Recently free iPad apps :
Important note : please, be carefull, all the apps mentionned below were free when we wrote this post, their price may have changed depending when you read this so always check the price before downloading from the App Store ! We won't be held responsible for any mistake since … You are the one hitting the button 😉
Ugly Meter : The Ugly Meter takes your photo and scans the details of your face to give you a rating of 1-10 on the Ugly Scale., for iPhone and iPad
Trollaroid : Choose a face to warp into, take a picture with your phone's camera or select an image from your gallery, and in a matter of seconds Trollaroid will automatically detect and warp the faces. It even works on photos with multiple faces in them. , ranked 4,5 stars on the US App Store, for iPhone and iPad
11 Calculateurs en 1 : HiCalc HD PRO for iPad is an ultimate calculator and will make all your calculations become simpler than ever with 11 calculators: Scientific, Currency Converter, Unit Converter, Date – Time, Constants, Tip calculator, Equation Solver, Statistics, Base conversion, Graph & Finance.
Radios Weather Alarm Clock Digital photo frame – Sonio HD : Sonio combines in a single concept a top trendy radio player, a definitely cool weather station, a picture frame that displays your favorite slideshows, a digital clock and a high quality alarm clock that is amazingly easy to program.
Recently free iPad games :
Momo and Bochi : In the world of Momo and Bochi, Bochis are stacking up faster than ever! Your job is to help Momo maintain peace and balance in their world. With vivid graphics and innovative game play, Momo and Bochi is sure to entertain everyone! , ranked 5 stars on the US App Store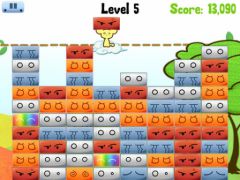 NBTD Solitaire : NBTD Solitaire is the classic game of Solitaire. It has been created as a Universal app so that it may run on iPad , ranked 4,5 stars on the US App Store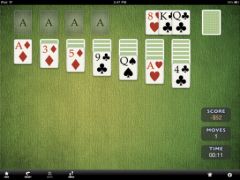 and a few other games :