Find here every day a summary of the best recently free iPad apps hand-picked for you by AppiDay.com staff. And when we find some good deals, we also mention top apps currently on sale. You can follow us on twitter or Facebook
Best deals on iPad apps
IM+ Pro : 9.99 -> $.99 , for iPhone and iPad
Recently free iPad apps :
Important note : please, be carefull, all the apps mentionned below were free when we wrote this post, their price may have changed depending when you read this so always check the price before downloading from the App Store ! We won't be held responsible for any mistake since … You are the one hitting the button 😉
UnArchiver : UnArchiver is a much more capable built-in archive unpacker program for iPhone, iPod touch and iPad. It is designed to handle many more formats, it can also handle filenames in foreign character sets, created with non-English versions of other operating systems. , ranked 5 stars on the US App Store, for iPhone and iPad
VideoFX Live : With VideoFX LIVE your video can have one shot or dozens without complex editing or post-processing. Pick an effect (including fade ins/outs), shoot your scene, review, and move on to the next scene … , ranked 4 stars on the US App Store, for iPhone and iPad
Week Number : Keeps the app icon updated with the current week number
Movie Stiller : Is camera shake spoiling your videos? Want to make them smoother and more professional? There's an app for that, and it's Elasty Movie Stiller! Movie Stiller is a must have for all video lovers.
Calcuiette HD : The Best Calculator in the Market for your iPad, iPhone, iPod Touch., for iPhone and iPad
Recently free iPad games :
"
Traffic Panic 3D : It's rush hour, but don't panic! Keep the traffic flowing to avoid crashes, pile-ups and blowing up the entire street!
, ranked 4 stars on the US App Store, for iPhone and iPad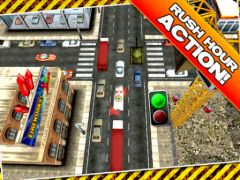 "
and a few other games :