Find here every day a summary of the best recently free iPad apps hand-picked for you by AppiDay.com staff. And when we find some good deals, we also mention top apps currently on sale. You can follow us on twitter or Facebook
Best deals on iPad apps
Fingle : 1.99 -> $.99 , ranked 4,5 stars on the US App Store
EPOCH. : 3.99 -> $.99 , ranked 4,5 stars on the US App Store , for iPhone and iPad
Recently free iPad apps :
Important note : please, be carefull, all the apps mentionned below were free when we wrote this post, their price may have changed depending when you read this so always check the price before downloading from the App Store ! We won't be held responsible for any mistake since … You are the one hitting the button 😉
SkySafari 3 : This is basic version of SkySafari 3. It shows you 120,000 stars, plus 220 of the best-known star clusters, nebulae, and galaxies in the sky. It displays the Solar System's major planets and moons using NASA spacecraft imagery, and includes the best-known asteroids and comets., for iPhone and iPad
HeyHey Colors : HeyHey Colors brings the colorful world of street artist Bue the Warrior in an amazing iPad coloring book to your child's fingertips.
iDownloader Plus – Universal Downloader and Download Manager : iDownloader+ is a fully featured download manager that allows you to download files to your iPhone, iPod Touch or iPad. You can then view/play the downloaded files right from your iDevice or transfer them to your computer via Wi-Fi Transfer, File Sharing or Email!!
Recently free iPad games :
Jelly Wars : Get Jelly Wars and become a soldier in an ancient war! , ranked 4,5 stars on the US App Store, for iPhone and iPad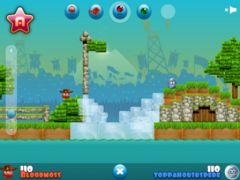 Stop Those Fish : A league of hyper-intelligent fish is plotting our destruction from their secret lair at the bottom of the sea. You are the leader of a small band of bears fighting for the survival of all land dwellers. In this epic battle that pits bear against fish, do you have what it takes to drown the fish uprising before it's too late? , ranked 4,5 stars on the US App Store, for iPhone and iPad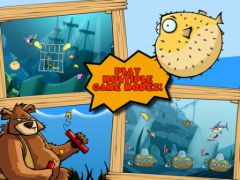 Push-Cars: Everyday Jam HD : "Push-Cars: Everyday Jam" is a new challenge with the cars and the cities of the original "Push-Cars", the game which has made more than 1.5 millions of players get addicted to a new brand of logic puzzle gameplay. Now the good and eco friendly cars must leave the cities again while the bad and polluting ones keep on crashing. But there are tons of new surprises awaiting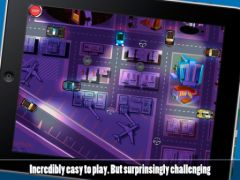 SocialChess : SocialChess is turn-based chess with your friends. This is the perfect combination of correspondence chess with social elements tastefully integrated., for iPhone and iPad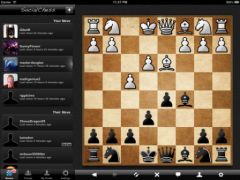 and a few other games :
free iPad apps,iPad deals,