Find here every day a summary of the best recently free iPad apps hand-picked for you by AppiDay.com staff. And when we find some good deals, we also mention top apps currently on sale. You can follow us on twitter or Facebook
Best deals on iPad apps
SHADOWGUN : 4.99 -> $.99 , for iPhone and iPad
Backstab : 6.99 -> $.99 , for iPhone and iPad
Recently free iPad apps :
Important note : please, be carefull, all the apps mentionned below were free when we wrote this post, their price may have changed depending when you read this so always check the price before downloading from the App Store ! We won't be held responsible for any mistake since … You are the one hitting the button 😉
123 Color HD : teaches numbers, letters (upper and lower case), and colors, spoken in English, Spanish, German, French, Russian, and Hebrew with engaging artwork, voice-overs, music, sound effects, and animation. , ranked 5 stars on the US App Store, for iPhone and iPad
Knowtilus (Web Browser+Text Editor+Text to Speech+Translator+Sketcher) : innovative Web Browser and Text Editor suite packed with all the tools you'll need while browsing, reading, writing, sharing and (re)searching the Web in your iPad, iPhone and iPod Touch. It's the first iOS App with a built in human-like Interactive Digital Assistant that reads aloud web pages and your documents with 52 amazing voices., for iPhone and iPad
Knowtes : elegant, versatile and innovative writing and text editor App that includes a web browser with reading list, a document translator and a drawing tool. It's an excellent way to write your notes, research papers, blog posts, articles, long emails, reports, poems, etc. Manage and capture with your iPad the online information and collect, organize, and share it quickly and effectively.
Comics Creator : Turn your personal photography into a real, full-length Comic Book, 10 custom comic-page layouts 12 custom caption bubbles Rotate (using 2-fingers), Zoom in/out Share: Email, Facebook, and Twitter Export multiple-page Comic via PDF, for iPhone and iPad
Weby : different, elegant and minimalist web browser for iPad, but above all, its main goal is to allow you to enjoy a simpler, faster and useful web browsing and web reading experience.
VinoBook : manage your cellar, your wine reference and record your tasting notes.
Recently free iPad games :
Disney's Puffle Launch : a Disney game, Get back all the Puffle O's, dodge crazy obstacles, discover amazing surprises, and seize a fiery prize at the end of every level., for iPhone and iPad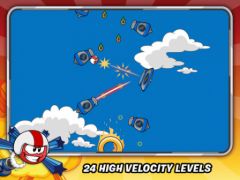 CannonLegend : Millions of villages have been destroyed. People are plunged into misery and suffering. The Scourge sent their evil army attempts to destroy the world. Fortunately, our wise ancestors made a powerful cannon to fight against the evil force. Now, You, our new hero. It's your time to save our motherland and create a new legend. , ranked 4 stars on the US App Store, for iPhone and iPad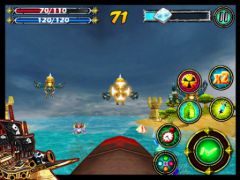 Rail Maze Pro HD : Solve 100+ of challenging and unique puzzles, build railroads, bomb through obstacles, escape PIRATES on rails.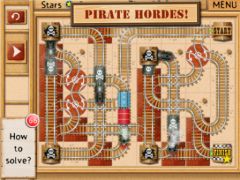 and a few other games :