Find here every day a summary of the best recently free iPhone apps hand-picked for you by AppiDay.com staff. And when we find some good deals, we also mention top apps currently on sale. You can follow us on twitter or Facebook
Best iPhone deals
SAMURAI BLOODSHOW : 4.99 -> $.99 , ranked 5 stars on the US App Store for iPhone and iPad
Recently free iPhone and iPod Touch apps :
Important note : please, be carefull, all the apps mentionned below were free when we wrote this post, their price may have changed depending when you read this so always check the price before downloading from the App Store ! We won't be held responsible for any mistake since … You are the one hitting the button 😉
TV Show Time : Free today with AppiDay. TvShow Time helps you managing and discovering series. It offers a practical reminder that recalls you which is the last episode you saw and the air date of the next episode. With TvST, you will no more ask yourself "What is the last episode I saw?", just mark on TvST the episodes you have already seen and you will know exactly where to resume your TV shows.TvST agenda feature has been designed to show you which episodes of your favorite show are available and the air date of the next ones.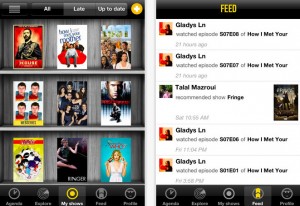 SuperShare : Share your Photos, Videos and Files by transforming your iOS device into a server, with or without authentication, accessible by multiple devices on your Wireless Network and BlueTooth, for iPhone and iPad
DiveMateGPS : By the creator of BikeMate and other mate series, ZeroOne MIA. Requested by many diver's around the globe, DiveMate has been created.
Dream Booth : You can take Dream effect photos using this application.
Recently free iPhone and iPod touch games :
Rolling Star : This is a lovely and easy play casual game , your goal is to pass through various obstacles to your "Super star" girlfriend around, hugged her and give her a big kiss. , ranked 4 stars on the US App Store, for iPhone and iPad
Stylish Sprint : Stylish Sprint is an action running game where you play as a stickman who travels the world in search of adventure…and collects any spare coins laying around. , ranked 4,5 stars on the US App Store
SnakeRace : AMAZING, ADDICTIVE, ADORABLE and AFFORDABLE! With SnakeRace, Norwegian game company TapCat takes the familiar concepts of good, old Snake to whole new levels. SnakeRace comes with 5 amazing, diverse worlds, each worth hours upon hours of fun and exciting gameplay. , ranked 5 stars on the US App Store
and a few other games :