Find here every day a summary of the best recently free iPad apps hand-picked for you by AppiDay.com staff. And when we find some good deals, we also mention top apps currently on sale. You can follow us on twitter or Facebook
Best deals on iPad apps
LogMeIn Ignition : 29.99 -> $14.99 , ranked 4,5 stars on the US App Store , for iPhone and iPad
Recently free iPad apps :
Important note : please, be carefull, all the apps mentionned below were free when we wrote this post, their price may have changed depending when you read this so always check the price before downloading from the App Store ! We won't be held responsible for any mistake since … You are the one hitting the button 😉
Photo To PDF : Photo To PDF is a universal iOS app that allows you to create multi-page PDF files from photos from your photo library, camera roll, or camera. Once a PDF file is created, it can be exported via email attachment, printer, other app that accepts PDFs, or to your DropBox , ranked 4 stars on the US App Store, for iPhone and iPad
Mooncast : At last, a simple and beautiful app to show the current phase of the moon., for iPhone and iPad
Flava™ – Enregistrez vos moments! : From nice photos you want to treasure, good music and books, impressive places, to links you want to visit again, why not save all your moments with Flava™ easily!
Lady Gaga+ : he Lady Gaga+ clock is the best way to enjoy the latest photos of Lady Gaga's new events on your iPad.
Baby, Try To Speak 1 : Interactive and playful application : "Baby, Try To Speak 1" lets your children have fun, to discover the different Farm animals
Recently free iPad games :
Rolling Spells HD : You'll have to pass through 35 levels and fight with eight original monsters. A detailed adventure map and useful tips from the Fairy are always there to help you not to get lost. , ranked 5 stars on the US App Store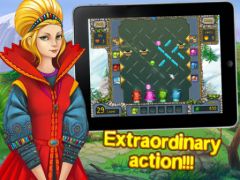 and a few other games :