Find here every day a summary of the best recently free iPhone apps hand-picked for you by AppiDay.com staff. And when we find some good deals, we also mention top apps currently on sale. You can follow us on twitter or Facebook and by mail :

Best iPhone deals
EPOCH : 2.99 -> $.99 , ranked 4,5 stars on the US App Store for iPhone and iPad
Recently free iPhone and iPod Touch apps :
Important note : please, be carefull, all the apps mentionned below were free when we wrote this post, their price may have changed depending when you read this so always check the price before downloading from the App Store ! We won't be held responsible for any mistake since … You are the one hitting the button 😉
CashTag : Free today with AppiDay, CashTag is the application you need to manage your spending! With its simple and intuitive interface you can track your expenses, see graphs and use multiple tags for a deep understanding of your budget. Be smart and save money with CashTag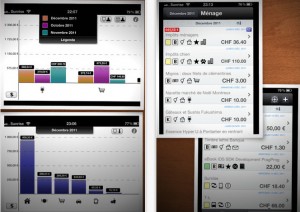 Your Ideal Weight and BMI PRO : Your Ideal Weight will calculate in a few steps if you are in the ideal weight zone or not. In addition to that there is a BMI calculation and some useful tips concerning weight, weight loss, sports and diets.
Sizer : Sizer application can help you to choose the right size of clothes in the U.S., Europe, the U.K., Japan or Russia. All you need to know is one of the sizes — the application will tell the rest. Making a shopping trip to another country, online purchasing and an unexpected gift to your beloved will be easier when you can convert sizes on the go.
Tuner&Beat Master : The Tuner&Beat Master, a combo music toolkit with amazing tuner and metronome function, you must have it if play guitar, violin, ukulele….and any other in the following 26 instruments:
Panorama 360 Camera : ONE touch, yes just ONE touch! Pano Camera 360 support Gyroscope Auto Shutter now (iPhone4 and iPad2), you just need to move and move, the camera will capture frames automatic. It is the best way to make high quality panorama photo within 10-30 seconds. , for iPhone and iPad
Safety Note+ : You can now keep your most private notes away form unauthorized access. Introducing the Safety Note+. Used the most advanced security system to protect your notes. You can then create notes, to do lists, reminders, share, and manage your notes right on your iPhone or iPod Touch., for iPhone and iPad
90 in 1 : APPZILLA! : 90 apps in 1 is here!! That's right, the best-selling bundle app for iPhone/iPod/iPad adds 10 more apps and new features like an iPod Alarm Clock! We've made tons of user-suggested improvements! Download today while on sale! 5 star reviews keep the updates coming!
Recently free iPhone and iPod touch games :
Zombie Wonderland 2: Outta Time! : Niceville is in peril again—the zombies are back to pester the citizens of the quaint little town. Travel back in time to help Chuck clear the world of those pesky mumbling zombies once and for all! , ranked 4 stars on the US App Store, for iPhone and iPad
Brave Ghost : Your goal is quite simple – save as many baby ghosts from danger as you can across 60 levels and bring them home.
Orbital Jumper : Nuno is the last Orbital Jumper left in the universe. He must make a daring escape from his crumbling planet. Level up your Power then Jump and Blast through to safety! , ranked 4 stars on the US App Store, for iPhone and iPad
Tri-Peaks Twist : Solitaire taken to new heights! Love solitaire and looking for a new challenge? Tri-Peaks Twist combines the classic strategy of tri-peaks solitaire with fun layouts, unexpected power-ups and eye-catching visuals. , ranked 4,5 stars on the US App Store
SpySpy : You are playing as a top-secret agent, Spike who must rescue all of his fellow agents that have been captured! No weapons were given, but you must use Spike's speed and hidden skills to avoid the enemies and the obstacles. , ranked 5 stars on the US App Store
and a few other games :